Learn to Send Perfect Morse Code by Hand - Vintage Training Film (Ham Radio / CW)
Posted on February 1, 2019
Amateur radio (illegally) aiding yacht racers
A story that I just became aware of and find fascinating involves the use of amateur radio communications in the Golden Globe Race, a 30,000 mile, non-stop solo yacht race to celebrate Sir Robin Knox-Johnston's historic 1968/9 world first solo non-stop circumnavigation.
https://www.kb6nu.com/amateur-radio-aiding-yacht-racers/
Posted on January 29, 2019
Repeal public notice DA 18-980 - Sign the Petition!
The FCC is attempting to block any VHF/UHF radio that has the ability to transmit outside of the Amateur Band. Show your support at change.org by signing the petition.
https://t.co/xaGz4cMKC1
Posted on January 25, 2019
Toyota Dealership Causing Radio Interference
Newington, CT, January 10th, 2017 - The FCC Enforcement Bureau called on a North Dakota auto dealership "to stop operating devices that are causing interference to licensed radio operations and to comply with federal rules and regulations related to radio frequency devices." The Bureau release a Citation and Order on January 9th, to Lithia Toyota of Grand Forks. The case stems from interference to a nearby Verizon Wireless site that has been emanating from the dealership's outdoor lighting.

"Specifically, Lithia is being cited for operating industrial, scientific, and medical (ISM) equipment and causing harmful interference in violation of Sections 18.111 (b) and 18.115(a) of the Commission's rules," the Bureau said in the citation. The Enforcement Bureau said the dealership "should take immediate steps to come into compliance with the Commission's rules, including eliminating the interference."

The case dates back to April 2016, when Verizon Wireless complained to the FCC of radio emissions causing interference to a Verizon 700-MHz LTE cell site in Grand Forks. Verizon noticed that the interference appeared to correspond with the outdoor portal lighting schedule of the nearby dealership, and it subsequently contacted a representative of Lithia Toyota, which agreed to leave the portal lighting off for one evening. Verizon said that resulted in a "considerable noise floor drop." Verizon contacted the FCC after Lithia failed to take corrective action, the FCC Citation recounted.

A March 2017 visit by an FCC field agent confirmed that the interference was coming from the dealership's portal lighting, which employed Philips model QL55W/840 induction lighting devices. The Enforcement Bureau's Denver Office issued a warning to Lithia Toyota, informing the dealership that it was operating an RF radiating device, an unintentional radiator, that was causing harmful interference to radio communications. The letter stated that the RF energy emanating from the device was detected between 776-787 MHz, frequencies reserved for cellular operation.

Although the dealership orally agreed to make a good faith effort to resolve the problem, a conference call with Lithia and Verizon representatives last June 28 confirmed that the interference still had not been resolved. The FCC noted in the Citation that the RF lighting devices at issue are ISM equipment regulated under Part 18 of the Commission's rules, which compel the operator to "promptly take whatever steps may be necessary to eliminate the interference."

"Based on the foregoing evidence, we find that Lithia has violated Sections 18.111(b) and 18.115(a) of the Commission's rules by failing to promptly eliminate the interference," the FCC said. Lithia has 30 days to provide a report to indicate corrective actions it has taken or will take to eliminate the problem. The FCC said failure to take action to resolve the interference could result in fines of up to $16,000 per day.

Posted on January 31, 2018
APRS on the Cheap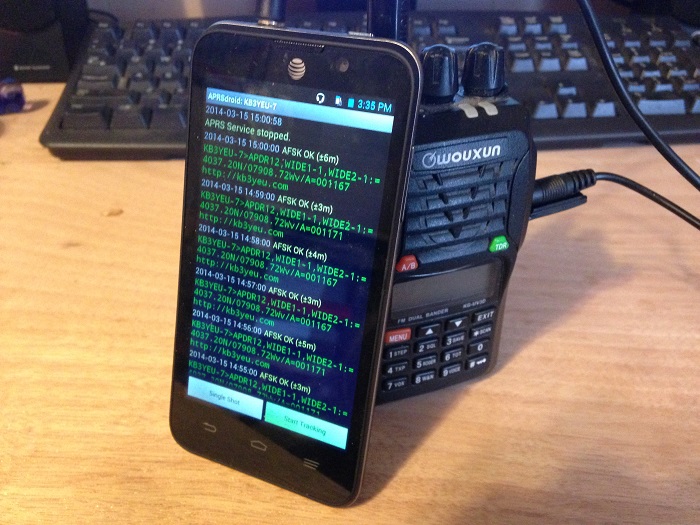 I have always been interested in the APRS capabilities of amateur radio but never had the funds to put together a reporting station. This all changed when I heard about the APRSDroid software for android devices.
Read more...
Posted on March 4, 2014
RTTY Operations on 10m
Fired up the Yaesu today to see if I could get some more PSK31 contacts but ended up making my first contacts with RTTY. Unlike PSK31 it is very fast paced with not any small talk. I am sure that was because of the NAQP contest. Either way it was exciting to make contacts across the country with 20w or less.

Posted on February 22, 2014
Equipment Malfunction
My Yaesu FT-897D starting acting up this weekend. The main, big selector knob completely stopped working. Therefor no fine frequency control nor could I change ANY options in the menu system. I called Yaesu today and since I ordered the unit on March 12 of last year, it is out of warranty by under 3 weeks. So I was transferred to the parts department and I ordered the optical rotary encoder to replace the faulty one. Luckily the part was only $43 plus shipping. Still cheaper than a new radio!

Posted on April 1, 2013
More 40m Contacts
Made quite a few contacts with the new 40M dipole. Mostly within a state or two as I expected. My FT-897D is acting up today so it is making things difficult.

Posted on March 30, 2013
40m Dipole Hung
I finally got my 40M dipole hung up today. I was only able to get it up about 15' which is no where near optimal. It will have a high take-off angle so it will not be good for DX. The antenna tuned up nicely and the new RG-8X is doing it's job.

Posted on March 29, 2013
Crazy 15m CW Contact
I made my first 15M CW contact last night and it was a good one. I managed to contact PA0VDV on 5 watts using my 10M copper ground plane! According to QRZ, this was a 3,822 mile contact! Yes my SWR was high and I am very sure my power out was not nearly 5 watts. Conditions must have been perfect for this contact because the equipment on my side sure wasn't. This got me thinking. If I add a reducer on top of my current copper ground plane, add the needed length of copper pipe to make it resonant on 15M, and use a hose clamp on the reducer so I can adjust it back and forth from 10M to 15M, this should work! I'll post more when I get to that modification.

Posted on March 20, 2013
eBay Coax
I needed some coax for my 40 meter dipole that I am working on so I hopped on ebay to see what I could find. I found a 100' roll of RG8X for $39.95 and free shipping. Below are some pictures of the cable, fittings, shielding, and center conductor.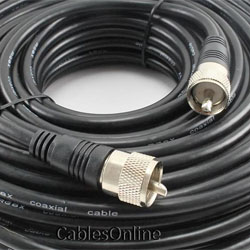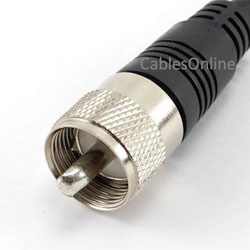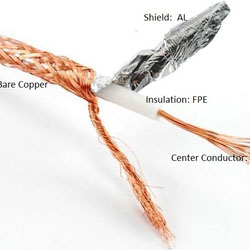 Posted on March 16, 2013
PSK Reporter
I found a neat site for seeing PSK activity world-wide. The site is
http://pskreporter.info
. You can filter the results to frequency, mode, callsign, signals, and time frame. It's a neat tool, check it out.
Posted on March 12, 2013
Articles
APRS on the Cheap